Basic Cleaning / One Time Deep Clean
Most homes acquire accumulated dust through out the home, grease around the stove area or soap scum/mildew on the shower walls if your home is not professionally cleaned on a regular basis. If your home needs deep cleaning, please request a "One Time Deep Clean" to remove most of the accumulated dust, soap scum and grease in your home. Once your home is deep cleaned, a team of two cleaners will maintain the cleanliness of your home with recurring basic cleanings depending on the schedule chosen. The cleanings will take much less time to complete after the initial cleaning visit. The services included in a "Basic Clean" or "Deep Clean" package are the same. Included in the "Basic Cleaning" and "One Time Deep Clean" package: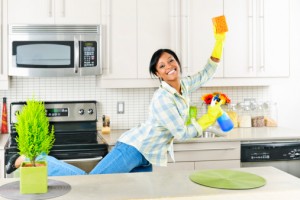 KITCHEN: Clean exterior of Appliances, counter tops, spot clean exterior of cabinets.
BATHROOMS: Clean and disinfect showers, tubs, sinks, toilets and counter tops, clean mirrors, spot clean exterior of cabinets.
BEDROOMS/OFFICE: Change linens, dust furniture, dust knick-knacks, wipe windowsills.
LIVING ROOM / DINING ROOM / FAMILY ROOM: Dust furniture, dust knick-knacks, wipe windowsills.
ALL ROOMS: Garbage takeout/re-line cans, dust ceiling fans, sweep floors, mop floors (hardwoods, laminate, tile and marble), vacuum floors, remove cobwebs.
You can choose from five convenient maintenance schedules depending on the size of your home and your budget requirements. We can service your home:
Every week
Every 2 weeks
Every 4 weeks
As needed
One Time Only
"If I am interested in your service, what is the next step?"
Click here to receive an online estimate or contact us at
404-493-1270.